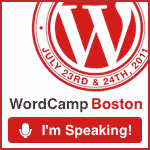 I will be speaking at this year's WordCamp Boston, which is being held on Saturday, July 23 and Sunday, July 24 at Boston University. My presentation is titled "Improving Your WordPress Productivity" and will be given at 1:45pm on Sunday, July 24. I will be discussing the process of choosing themes and plugins and ways to save yourself time while working with WordPress. The full schedule for WordCamp Boston is now available online, and there are a lot of great speakers lined up and a variety of sessions to choose from. If you are in the Boston area and work with WordPress, I highly encourage you to attend. Tickets are only $40 and include two days of sessions, swag, and even some food.
Improving Your WordPress Productivity
Are you feeling overwhelmed by the choices of themes and plugins? Spending too much of your time writing custom code, trying out the wrong plugins, or performing repetitious tasks? You don't have to learn by trial and error. If you set your site up properly from the start, and follow the right guidelines, you'll save yourself a lot of time and frustration.
This presentation is for beginner and intermediate users who are looking to improve their productivity in using and extending WordPress. If you feel like you're always taking the long way when building a site, this presentation might be just what you're looking for. I'll cover some of the best practices for choosing themes and plugins, and show you how to use WordPress more efficiently. I've built dozens of WordPress websites, and I'm here to share some of the knowledge I've learned.
WordCamps
WordCamps are considered "unconferences," which are more casual and inexpensive compared to traditional conferences. There are dozens of WordCamps every year and they are held all around the world. Topics range from beginner tips to advanced WordPress development, so there is always something for everyone. For more information about WordCamps, visit the WordCamp Central website.